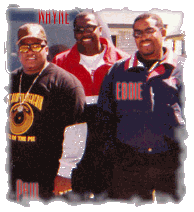 Founded in 1997 by Eddie/Paul/Wayne, EPW Entertainment is backed with 4 years of industry experience.
EPW Entertainment provides top-notch services. EPW is a Independent Recording as well as a Promotion & Entertainment Company along with great customer support - a combination that can't be beat!
Through our commitment, experience, and expertise EPW Entertainment has established a business relationship with our fans!


Call EPW Entertainment at (512) 5671-3521 or (512) 554-5188 Call Today!